Welcome to Hawthorne Dog and Cat Hospital
Your Veterinarian in Lawndale, CA
Call us at 310-675-3328
Pet Emergency? Read no further and call us right away!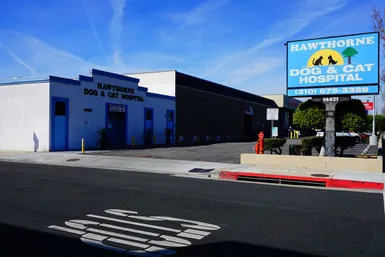 We know that your pet is a part of your family, that is why we are always committed to providing you and your pet the best care at an affordable price.
We are a full service hospital providing medical, surgical, dental care, as well as bathing, boarding and flea control. Through our web site we hope to familiarize you with our facility and expert staff. Feel free to browse our Dogs and Cats pages for important information about vaccinations and the diseases they prevent. Come back often and check our Newsletter for up to date information or visit our store to get the products we recommend you use for your pets. We thank you for choosing us for your pet's health care needs.
We have a number of resources for you to learn about how to take better care of your pets. Browse around and look at our articles and pet videos. The best veterinary care for animals is ongoing nutrition and problem prevention. If you want to ask a question call 310-675-3328 or email us and we'll promptly get back to you. Our Lawndale veterinarian office is very easy to get to, and you can find directions on our Contact Us page. You can also subscribe to our newsletter which is created especially for Lawndale pet owners. In between your veterinary visits, your pet will benefit from you reading these free informative articles.
At Hawthorne Dog and Cat Hospital, we treat your pets like the valued family members they are.
Dr. Dimitri Freyts
Lawndale Veterinarian | Hawthorne Dog and Cat Hospital | 310-675-3328
14431 Hawthorne Blvd
Lawndale, CA 90260